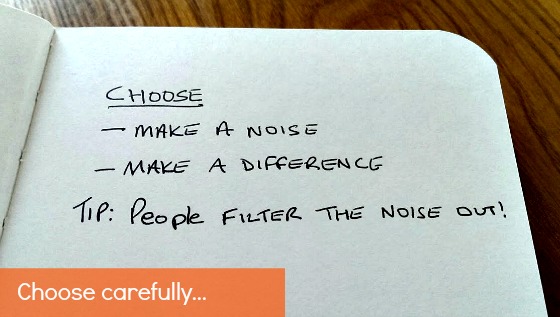 It's easy to add to all the noise out there.
Pester people with special offers via social networks.
Invite people to your desperate sales video webinar.
Retweet that guru who has already been retweeted thousands of times.
Agree with whatever the popular opinion of the day is.
The thing is, no one is demanding more noise.
Training people to ignore you
You can't benefit from the noise deficit, because there isn't one. So, all the noise makers do is train people to ignore them. Sure, they may have followers, but no one is listening to them. They may have our email address, but their emails don't get opened or acted on. If they stopped making their noise, we wouldn't miss them at all.
The difference deficit
Where there is a deficit, is with people who are making a difference. These are the rare people we eagerly subscribe to. These are the people we look forward to hearing from. They add something of value to us and our business. They make a difference. A positive, meaningful difference.
Most importantly, these are the people we miss when they are not there.
And that's also the best way to determine if your marketing is making a noise or making a difference. It's a tough question to ask and answer, but would people miss your marketing if it stopped?
Tip: If you need to push your marketing because people are not spreading it, they probably wouldn't miss it. If people spread the word for you, (send your newsletter to their friends, reshare your work, etc) … you're making a difference.
Are you making a noise or making a difference? originally appeared on Jim's Marketing Blog.