I often get asked about the tools I use for my daily work. The image above is pretty-much the standard set-up for me… extremely minimal, with everything I need and nothing I don't need.
Here's some more detail, including the hardware and software I use.
Hardware
I use MacBooks now for all my production work. I have a MacBook Pro for the office and a MacBook Air for writing on the move. For 20 years I was a Windows user, however, I switched to a Mac last summer and have never looked back. The design, usability, portability and speed of these machines makes them ideal for me.
I can get an idea out of my head, without having to wait or wrestle with the hardware / software. They boot up from cold in just 13 seconds and everything 'just works' without a hitch.
Interestingly, as I always bought high end Windows machines, I have saved hundreds by switching to Macs. Macs are only more expensive than PC's, if you're switching from low or mid-range PC's. My last Lenovo Think Pad cost almost as much as my MacBook Pro and MacBook Air combined.
Thinking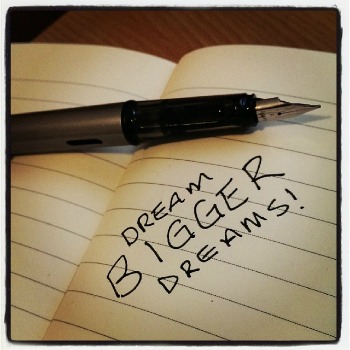 I'm extremely visual, so I  have a notepad with me all the time and use it to capture ideas or simply doodle, whilst I am thinking.
It seems that the physical act of moving a pen or pencil on paper, aids my creativity. I keep all my old notepads and often go back to them months or years later, for inspiration or ideas. I love fountain pens and fine tip drawing pens. I use lots of different coloured ink. I also use mechanical pencils.
Software
Here's the main software I use for work.
I use WordPress for blogging. There are other blogging platforms out there but none provide me with the flexibility or functionality I need, other than WordPress. It's the only blogging platform I recommend.
I use Instagram, though in a slightly different way to most people. I use it for inspiration. I follow lots of designers and creators and often get inspired by seeing their imagery. You can join me on Instagram here.
I use iA Writer for most of my writing. It's a distraction-free writing program, which presents you with a totally clear computer screen – no menu bars, just a 100% blank canvas.
I use Evernote mainly for capturing ideas from websites. It's also useful as a cloud based way to organise notes, sounds and images.
I use Skype for client calls. I work with business owners worldwide and Skype allows me to not only speak with my clients, but share screens, video conference, share links and use a whiteboard together.
I use Microsoft Office. I have clients who hire me to write for them and they tend to use Word, so I use Word when writing for them. I also prefer Outlook to any of the Mac email apps.
I use PicMonkey for the graphics you see in my blog posts and social network posts. I use the premium version, though the free version does everything I need. I just like to pay developers, when I use their work. I wrote a short review of PicMonkey here.
That's it.
Of course, it's what we do with the tools we use that matters. However, we can make things a lot easier by selecting the correct tools for the job. I hope you found something there, which helps you with your work flow.
Main photo: Alejandro Escamilla
The post Behind the scenes: The tools I use every day appeared first on Jim's Marketing Blog.